Fitness Suite
Comberton Sports & Arts offers two venues dedicated to working out.
Our air-conditioned fitness suite is a bright and airy sapce with a variety of cardio-vascular and weights machines, a matted area for floor work, free weights and more.
We offer Pulse Fitness Treadmills, bikes, Stairmaster, cross trainers, rowing machines and a range of resistance machines. We also have a assisted pull up and chin dip machine, TRX and weight stacks with accompanying attachments. In addition, we have a matted exercise and stretching area with a range of free weights, BOSU balance balls, kettlebells medicine balls and Swiss balls.
The free weights room has bumper plates, Olympic lifting bars, a squat rack and bench press station, benches, kettlebells and powerbags.
All sessions will need to be booked on the FitSense App or by phoning reception on 01223 264 444.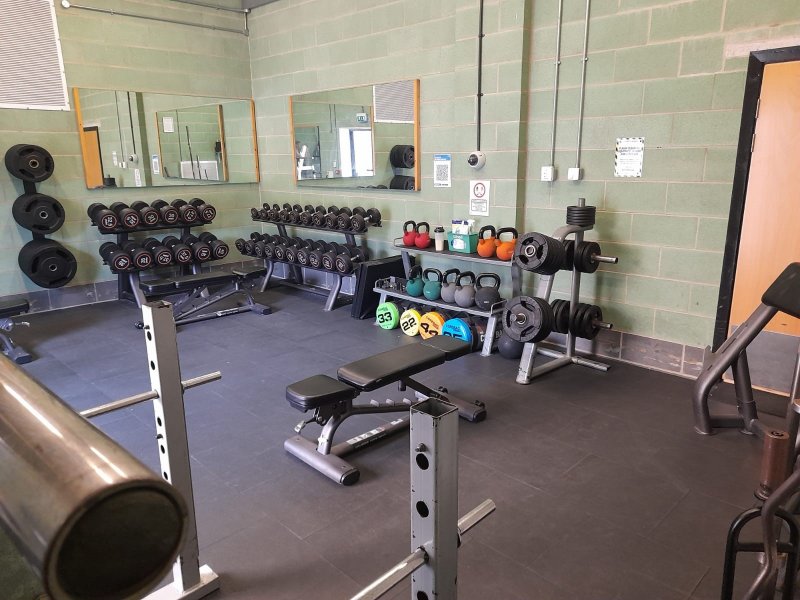 Free Fitness Programmes
We are pleased to offer all members a free six-week tailor-made fitness programme. Work with Fitness Manager Chloe Wilson to create your own programme tailored to your fitness goals. Based on these, how often you can workout, your age, general fitness and medical considerations, Chloe will email you a personalised plan to help you make the most of your time in the gym. To take advange of this members-only offer, please email Chloe on cwilson@combertonvc.org
You can also track your progress using PulseMove, a free app available from the Apple or Android store. You can use PulseMove Tracker to scan QR coes to save your results. Sign up free here.
Personal Training
Struggling to go it alone and need a personal trainer to keep you on track? Talk to our Fitness Manager about our Personal Training packages.
Classes
If working out alone or having a personal trainer doesn't motivate you, why not join the Get Fit class run by Comberton's Adult Education Department? For an additional fee (£53 for 10 weeks, concessions £40), you will be part of a group that meets on a Tuesday during term-time (1.00-2.00pm). Make new friends, get a whole body work out at your own pace and benefit from having a qualified instructor on hand to guide you and answer any questions. For more information, please go to the Adult Education website by clicking here.
Individuals can still use the gym while this class - and the Junior Gym and PE classes for College students - takes place but please be aware you will be sharing the equipment with more people than at other times. See the dual usage timetable on this page for further information.
Healthy and Active 4 You - GP Referral classes
Our Exercise referral scheme is for residents with medical conditions. 12 week personalised fitness program is drawn up and supervised by our qualified instructors. Access the scheme is via a referral from a GP, physiotherapist or another health care professional. Twice a week (Monday and Friday between 11.00 -12.00) the gym is closed to individuals for the exclusive use of the faciliies by Active and Healthy 4 You classes. These are administered at Comberton Sports & Arts. More information for the South Cambs District Council initiative can be found here. It offers a 12-week course, based on attending two sessions - each week (Monday and Friday) and currently costs £20 per month via a GP Referral (CSA Gym Membership). Participants are initially assessed by a fully qualified instructor who creates a unique programme based on their capabilities and reasons for participation. Under instruction, participants then participate in group warm-ups and cooldowns either side of working through their tailor-made programme. If you think you could be eligible for one of these classes, please talk to your health professional.